GoDigiSchool Features
Secure Admin Panel
Manage your school & connect with students and parents through one window. All teachers will get independant role based admin panel.
Online Admission System
Get admission forms by centralized Admission System.
[* for admission school must register with godigischool.com]
Maintain School Reports
Generate school reports (eg. General Register) & Maintain daily by easy search tool
Student Portal
Student and School is tightly bond with the help of Student Portal. All Syllabus & Practicals available in this portal also student can attend online exams.
Recruitment & Staff Management
Now manage your staff and assign lectures to teachers easily and also teachers will get their responsiblities through notifications.
Hostel Management
Student can easily take admission in hostel and also get hotel servicess. All students and thier helth reports are available in front of hostel rector.
Attractive School Website
Now promote your school by displaying school information digitally in cloud.
Auto Generate Reports
Now students will get thier documents on just single mouse click.
24 * 365 Technical Support
Molestie lorem est faucibus faucibus erat phasellus placerat proin aptent
Leading the Digital Eduaction Revolution
Digital Education is must for revolution. Start revolution to your school by using godigischool.com and deliver education in cloud and improve your decision making.
Get your free demo now !
Note: For free demo you must sign up with your email account and school udise
View Demo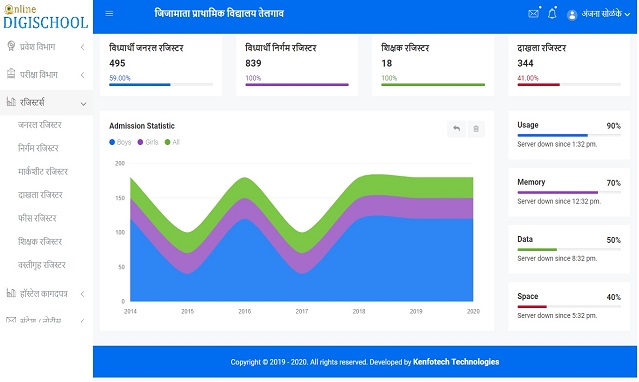 Features We Offer
GoDigiSchool.com offers the most popular professional tools to manage your Schools & Reports
Easy To Manage
Every staff will get their personal admin panel. And email subscription to receive notifications.
Analytics Tool
Principal can receive their school analytics reports regularly by setting schedule
Professionals Tools
Social Media marketing and Search Engine Optimization helps to rank up your school in top 5.
Ready Content
You can import your school data within system by using csv import file functionality.